Creating...
One thread...
One stitch...
At a time
I take great pleasure from working at a snail's pace. Each item is completely unique, from hand dyed materials through to the individual beads applied. Everything on this site was designed & painstakingly made, by me. Perhaps you will find something beautiful that you would like to bring into your life! 
For the Body
There are so many beautiful things to use to cover the body... Luscious Tencel (a natural fibre made from wood pulp) draping around your neck or cozy soft wool over your lap. You will find something beautiful here! 
View Collection
For the Wall
There is a classic quality, a timelessness, an invitation to look closer & absorb... Think of this artwork as physically observing a meditation. 
View Collection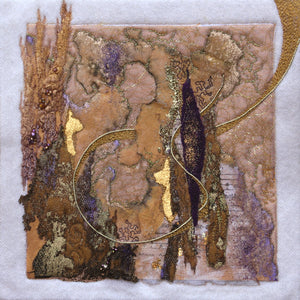 For Creativity
Here, you will find inspiration for creating something precious of your own!
View Collection
For Life
There are other special items, & you will find them here: Cards with my artwork as images, Handwoven Baby Wraps, Cloth 'bins' for putting things in... Have a look! 
View Collection
For Worship
Where two or three are gathered ... Let's have a conversation about what I can offer to enhance your worship space.
View Samples